Aptera promotes itself as an SEV, a Solar Electric Vehicle. Which it is.
However, in my personal opinion, the solar is "just a feature". Don't get me wrong; I am thoroughly impressed by the innovation of adapting the solar cells in such a way that they follow the compound curvature of the vehicle and can withstand harsh conditions. But my point is that Aptera is still a great vehicle without its solar panels. What makes Aptera so awesome in my opinion is its excellent efficiency. As more or less of a bonus, solar panels on the vehicle can trickle charge the battery to a very usable daily range. Depending on how sunny it is, how you park and where you live.
So, if solar panels give Aptera significant range, does that mean that choosing the full solar option is a no-brainer? Well, I think it highly depends on your use case.
A no-brainer "yes" situation
Let's say you are full time employed, living in sunny San Diego. Every work day, you park your Aptera at the office on a sunny parking lot, where no charging infrastructure is available. You live in an apartment and are unable to charge your vehicle at home. Public charging is expensive in your neighbourhood.
Of course, in this situation, the panels would be extremely useful and choosing the full solar package is a no-brainer. The alternative (charging by plug) is expensive and cumbersome, while the integrated panels on the Aptera will have a very high yield due to location and parking habits.
A no-brainer "no" situation
Let's say you are Batman. You keep to yourself and don't want others to see when you are at home. Alfred needs to install lasers on your wheel covers and they need to be inspected regularly to ensure functionality. So you keep your Aptera in your Batcave, shielded from the sun. You mostly drive your Aptera at night. You never leave Gotham City.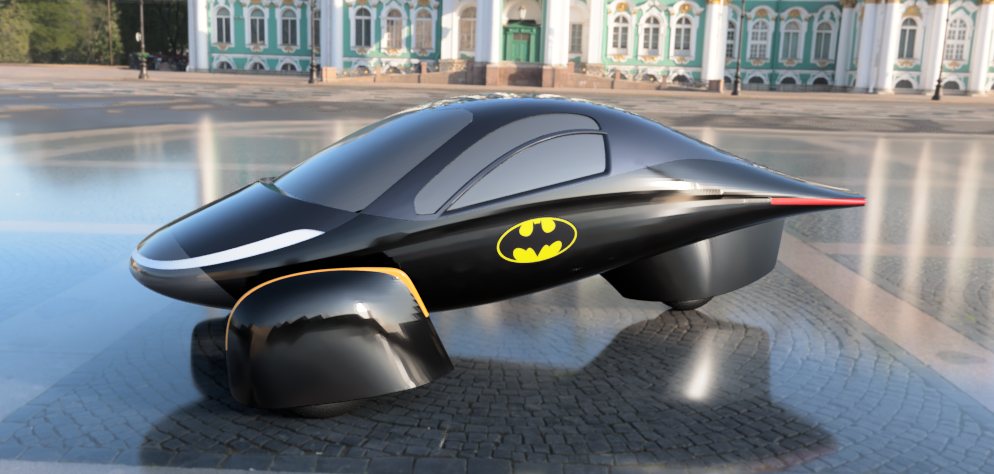 Of course, in this case, the solar panels have zero added value.
I realize this might be a bit of a specific scenario, but there are plenty of (potential) customers who might want to park their Aptera in a garage. Shielding their vehicle from weather influence, vandalism and theft isn't necessarily a bad idea. The vehicle could also be charged with roof top solar on their home for instance. It might be slightly less efficient due to the extra conversion steps, but the roof top solar will usually have better positioning, less shade and it will be cheaper for the same amount of power.
If I were to have a garage, I would opt for roof top solar and I would take a pass on the additional solar on the Aptera itself.
Environmental impact
You might think of choosing to go full solar, just because it's cool and you don't mind spending the money. What I'd like you to factor in though, is that manufacturing solar cells requires energy and is not free of environmental impact at the production location.
This article gives us some quantitative information on the energy payback time of solar panels. Meaning: When will the solar panels have generated more energy than the production of the panels has cost?
Of course, this number highly depends on how the panels are produced and on how much sun the panels are subjected to. Still, it gives us a ballpark idea on what the payback time could be. Since I personally live in a relatively cloudy climate, not too close to the equator (the Netherlands) and since I expect the Aptera solar panels to have a slightly larger foot print than standardized panels that are easier to manufacture, I estimate an energy payback time of 3 to 4 years in my use case. I intend to park my Aptera outside, but there will probably be some shade during parts of the day.
Again, if you park in a garage, I'd advise against getting the full solar. Just because the net result on the environment would probably be negative. We should realize that solar panels are not "good for the environment". Just much less bad than most of the alternatives.
Deciding based on cost
So, what if you do decide to at least have your Aptera out in the sun for a significant part of the day, but you're not sure if you're willing to fork out the additional $900 for the added solar? How long does it take to earn back your investment?
I've seen people making this analysis in all sorts of weird ways. For instance by comparing what they are paying for gasoline now and comparing that to the solar mileage. This makes very little sense however, because the only two scenario's that need comparing are driving an Aptera with additional solar and an Aptera without additional solar.
The payback time is determined by:
The solar yield of the additional solar in your specific situation
The electricity price you would be paying for the additional charging if you don't choose the additional solar
According to the configurator on the Aptera website, the basic solar yields 16 miles of solar per day. Full solar costs an additional $900 and would bring you 40 miles of solar range per day. Full solar means 700Wp of solar cells according to my latest information (October 2022). The additional solar is thus approximately (40-16)/40*700 = 420Wp.
I don't live in sunny San Diego and therefore I don't expect to achieve 40 miles per day. I do however have solar panels on my home and therefore have a realistic idea of how much 420Wp of additional solar yields.
The panels on my roof are 1500Wp combined. They produce a little over 1600kWh per year over the last 3 years. Since my Aptera won't always be parked in the perfect orientation and fully subjected to the sun, I would be very happy to reach 1kWh per Wp per year. So, I don't expect to exceed 420kWh, or 4200 miles of solar range per year from choosing the additional solar. That's about 11.5 miles per day on average.
Electricity prices have varied tremendously in the last few years. This is mainly due to our dependence on Russian heating gas and its price skyrocketing due to international conflict. Last year, prices were around $0.25/kWh, but currently we're around $0.70/kWh…
If the prices were to go back to a "normal" $0.30/kWh, it would take $900/$0.3=3000kWh of solar charging to earn back the investment. This means, for me, it would take more than 7 years to earn back the additional investment.
In reality, I think the solar yield might be an optimistic estimation and my electricity price is actually around $0.12. That's because the solar panels on my roof produce more than my home consumes, thus the cost of my charging would be defined by the price I'm getting from my power company for delivering my excess solar to the grid. I don't have a driveway to charge my Aptera though and I intend to keep my Aptera for a long time. I also don't expect energy prices to drop significantly. So I opted for the full solar.
In the below graph, you can find the time it takes for you to earn back your investment. It features 3 lines; one for 10 miles per day, one for 17 miles per day and one for 24 miles per day solar charging. The worst case line is close to my situation of parking outside in Northern Europe. The best case scenario is based on the 40 miles/day estimate of Aptera. Choose whichever line corresponds best to the solar yield expected for your personal situation.
Resell value
Some people have commented that the resell value of a vehicle with full solar is much higher. I think that's hard to assess for now. If Aptera proves successful and delivers on its promise of upgradeability, I expect the solar panels to be outdated once I sell my Aptera. The solar is also expected to drop in efficiency over the years.
However, if Aptera sadly needs to close shop after some years, or decides not to supply (upgraded) spare parts, the value of the solar panels might even increase. Time will tell.
In conclusion
While the above analysis helps in making an economically and environmentally logical decision, I do realize that some might choose the full solar package for different reasons.
Not having range anxiety as long as you have time for instance. With the full solar, it's easier to just wait a day and continue your journey. To experience that sense of freedom has value. A value that's difficult to express in dollars. The decision of getting the additional solar or not will therefore always be a personal one. After reading this blog, I hope yours is an informed one as well.
Did you appreciate this information and did you not yet reserve your Aptera? Please consider using my referral code to get a $30 discount on your reservation fee and help me get a discount on my Aptera as well. Or read a bit more on ordering here.